About the Artist - Sarah Binder
Artist Statement
I use the forms and colors of metal to build sculptural jewelry. My work portrays nature in competition with our growing demand for modern technology and conveniences. Tapering tendrils, twisting vines, flowing leaves, and bursts of color and texture all interact in my work. An array of man-made materials incorporated into my jewelry reflects the industrial world that surrounds us.
My jewelry captures the world as I interpret it: elegant, colorful, and full of surprises.
Artist Biography
Art has surrounded me my entire life. I was born and raised in Palmerton, PA and continue to live small town Pennsylvania. Growing up I was surrounded by nature as well as industry. I am fascinating by nature and how it survives and overpowers our advanced society.
I graduated from Cedar Crest College in May of 2011 where I studied studio art, jewelry and metalsmithing, business and marketing. I earned my Bachelor of Art and Bachelor of Science. I pursued my education further by studying entrepreneurship and earning my MBA from Ashford University.
I will continue to grow, learn and provide my unique, art jewelry to my loyal customers.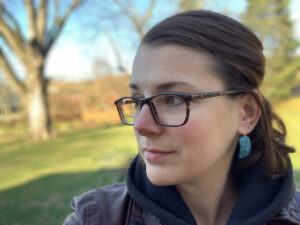 Follow Sincerely Sarah on Social!